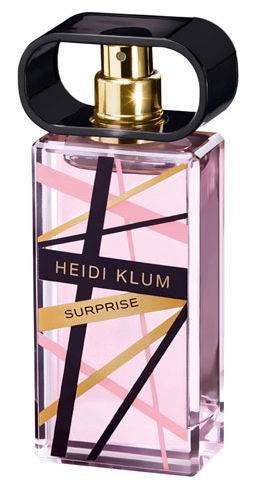 If designer fragrance bottles can vote, this Heidi Klum will be president Surprise!
Heidi Klum
's latest fragrance, named
Surprise
, is due to launch next month. Mr. Klum comes from little German town that goes by the name cologne. So it's only natural for her to take part of the fragrance business. She is a top fashion figure and a global force in all things good looking.
We are learning that the new fragrance, is a complex nature of balmy, floral, citrusy scent, contains notes of mandarin, pink pepper, magnolia, rose, benzoin, and sandalwood. Heidi Klum says her fourth fragrance will stimulate all of your senses.
"Surprise will stimulate all your senses. The fragrance is cheerful, playful and sexy,'' announces Heidi. I think this is a great deal of balance between something fresh and something more sensual, Klum might be up to something. I know she has already won me over with the design.
Roa will be standing in line to try this modern and sensual fragrance with floral-fruity notes that blend with warmed resins and wood.